AMES TAPERS
GLASGOW, SCOTLAND

Aarmac Ames Tapers and Drywall Finishers
Our ames taping contractors service is ideal for property development companies, joinery contractors and architects. We cover anything from small domestic house extensions to new builds and large industrial units. We provide a fast, friendly and affordable service to all of our clients.
Ames taping is a more cost-effective alternative to plastering. Where a plasterer will skim the whole wall, a drylining finisher will apply tape and three coats of jointing compound to the joins only, leaving a feathered edge and seamless flat surface ready to be primed and painted.
At Aarmac, we provide mechanical taping and hand taping services to our clients in Glasgow and the surrounding regions. Our team of experts includes both hand tapers and machine tapers to cater to the unique needs of our customers.
Thanks to the latest tools, Ames taping can now be done as quickly as plastering, while still achieving an equally impressive finish. Taping and jointing also have a much shorter drying time, allowing for faster turnaround. This method is becoming increasingly popular for all new construction projects and extensions.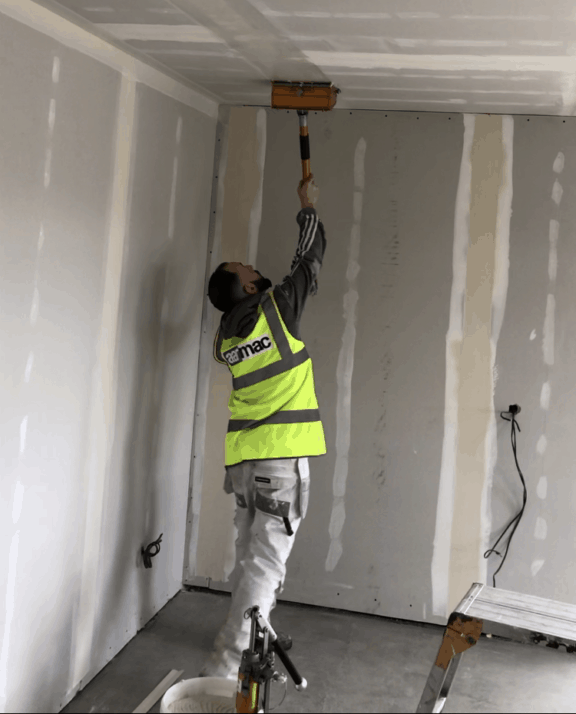 THE BENEFITS OF SELECTING AARMAC AMES TAPERS GLASGOW
Searching for an Ames Taper Glagow?
When it comes to achieving a flawless and expertly finished drywall installation, one name consistently stands out in Glasgow – Aarmac Ames Tapers. Renowned for their unparalleled expertise and unwavering dedication to excellence, Aarmac Ames Tapers Glasgow has become the preferred choice for contractors, builders, and homeowners in the region. In this article, we will delve into the compelling reasons behind choosing Aarmac Ames Tapers Glasgow for all your drywall finishing requirements, particularly if you seek a specialist in Ames taper techniques.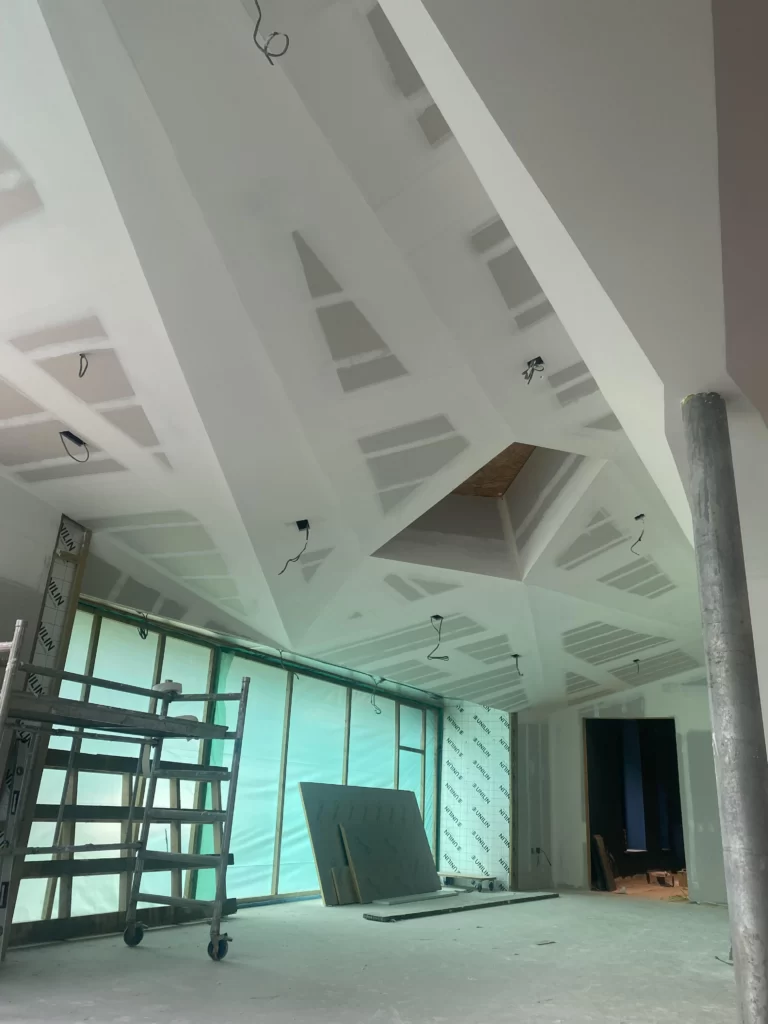 Aarmac Ames Tapers Glasgow specializes in the intricate art of Ames taper techniques. This distinctive approach to drywall finishing ensures that the seams and joints between drywall panels become nearly invisible, resulting in a polished and professionally finished appearance. Attaining this level of perfection demands specialized knowledge, the use of precise tools, and extensive experience – qualities that Aarmac Ames Tapers Glasgow possesses in abundance. Their team of skilled professionals has honed their expertise in Ames tapering, positioning them as the ideal choice for projects that demand nothing short of a flawless finish.
Excellence is paramount in drywall finishing, and Aarmac Ames Tapers Glasgow understands this principle profoundly. They take immense pride in their craft, employing the finest materials and techniques to produce results that consistently surpass expectations. Whether the task at hand involves a residential renovation, a commercial build-out, or any other drywall project, you can rely on Aarmac Ames Tapers Glasgow to deliver a finish that not only radiates beauty but also offers lasting durability.
A defining characteristic of Aarmac Ames Tapers Glasgow is their unwavering commitment to precision and attention to detail. They comprehend that even the slightest imperfection in drywall finishing can become glaringly evident. Consequently, they meticulously scrutinise and refine every inch of your drywall, leaving no room for flaws or imperfections. Their unwavering dedication to achieving perfection ensures that the end product is not just aesthetically pleasing but also structurally sound.
Aarmac Ames Tapers Glasgow recognises the critical importance of time in the construction industry. Therefore, they place great emphasis on delivering their services punctually and reliably. When you opt for Aarmac Ames Tapers Glasgow, you can have full confidence in their ability to meet your project deadlines, thereby assisting you in adhering to your schedule and budget.
While Aarmac Ames Tapers Glasgow offers top-tier craftsmanship and expertise, they also comprehend the significance of maintaining competitiveness in the market. They offer transparent and equitable pricing, ensuring that you receive outstanding value for your investment. Their pricing structure is thoughtfully designed to accommodate projects of various sizes and budgets, rendering them an accessible choice for clients with diverse requirements.
Should you find yourself in need of drywall finishing services in Glasgow, and if your expectations demand nothing less than the best, your search can cease with Aarmac Ames Tapers Glasgow. Their mastery of Ames taper techniques, dedication to superior craftsmanship, commitment to precision, reliability, and competitive pricing make them the foremost choice for drywall finishing in the region. By selecting Aarmac Ames Tapers Glasgow, you are choosing a partner wholeheartedly dedicated to elevating your drywall into a masterpiece of artistry.